Roti, Pizza & Bread are the most consumed food items in India. The dough maker is used to make yeast-based bread, including pizza and calzone doughs.
Below are the 5 best dough makers in India, which will make your Roti, Pizzas, and Bread soft and fluffy.
5 Best Dough Maker in India for Roti, Pizza & Bread
#1. KENT Atta and Bread Maker
The KENT Atta bread maker is a convenient and hygienic way to prepare dough for all types of bread. The machine comes with 19 program menus that can be used to make different types of bread, using any kind of flour for preparing the dough.
KENT automatically keeps the dough chilled for better fermentation and also has a dry bake setting. This atta maker also comes with a kneading panel remover that makes it easy to clean and maintain the machine. The power rating is 550W and the one-touch operation makes it very simple to use this appliance.
Pros
Non-stick atta maker
Capacity 3 liters
Non-stick bread pan
19 menu options for making different types of bread.
High power capacity 550 watts.
Cons
No timer available.
No automatic shut-off facility.
You may find it interesting – 7 Best exhaust fan for kitchen
#2. Clearline Automatic Electric Dough Kneader With Non-Stick Bowl
The Clearline automatic electric dough kneader is a powerful 650-watt dough kneader that can knead all types of flour, including hard wheat. The dough kneader has a large capacity 3-liter non-stick coated bowl which makes it convenient for making large batches of dough.
The lockable double lid design prevents the flour from going everywhere when mixing. Clearline dough kneader comes with an unbreakable kneader blade that rotates at up to 80 RPMs for fast.
A 15-minute automatic timer allows you to set the machine at your convenience and remove it from the power socket safely when not in use.
Pros
15-minute automatic timer.
Lockable double lid.
Large 3 liters stainless steel bowl.
Automatic shut-off facility for safe storage when not in use.
High power capacity 650 watts.
Non-stick bowl and kneader blade.
#3. Home Plus 500-Watt Atta Maker
Home Plus Atta Maker is a powerful and versatile all-in-one mixer that has an extra-large capacity, which means you can mix larger quantities of food at one time. The Home Plus Atta Maker includes two attachments that allow you to chop onions, blend soup and smoothies, whip creams for cake and pastries, prepare delicious batter and purees, slice and grate vegetables.
The powerful motor of this product helps you to squeeze healthy juice with ease. This product has been manufactured using high-grade material so that the durability of the product is guaranteed.
The internal circuit breaker will protect your home from any kind of electrical hazards. The atta maker comes with anti-skid feet that prevent slipping and sliding even on wet surfaces.
Pros
Multi-speed operation that helps in preparing many varieties of food.
Interchangeable attachments and blades for different kitchen functions.
Stainless steel grinder
Powerful 500 watts motor.
Additional attachments for mixing, grinding, chopping and kneading.
Unbreakable jar for chopping, kneading and whipping
Also read – Top 5 kadai for deep frying in India
#4. Slings One Stop Shop Dough/Atta Maker
The unique design of the Slings dough maker helps you knead the flour with oil and water into a soft, smooth and elastic dough within minutes. This atta maker comes with 3 measuring cups that can be used for measuring ingredients like flour, water and oil.
The Slings dough maker has a transparent lid that allows you to see how well your dough is kneaded without removing it from the machine. The atta maker is made of 100% food grade ABS plastic which is BPA-free.
Slings dough maker is dishwasher safe ensuring easy cleaning after use. Heat resistant handle allows you to remove the lid with ease.
Pros
Kneads the flour with water and oil into a soft, smooth and elastic dough.
Made of food-grade ABS plastic.
3 measuring cups included.
Transparent lid for easy monitoring of dough while kneading.
Dishwasher safe attachments and bowl.
Heat resistant handle.
Cons
Smaller capacity than other models.
#5. Wonderchef 63153021 300W Mixer, Beater And Dough Kneader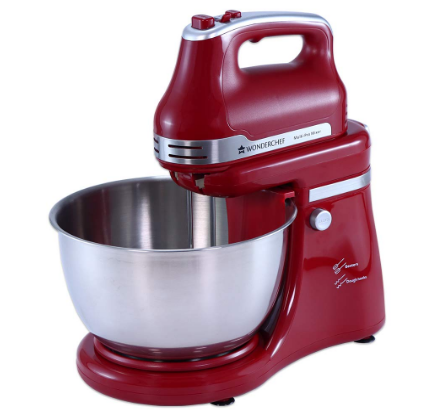 The Wonderchef mixer, beater and dough kneader is a 3-in-1 stand mixer that comes with 3 attachments – beaters, dough hooks and a spatula. The mixer comes with stainless steel rotating bowl that can be used for mixing, blending or whipping any kind of liquid food item.
With the turbo 5 speed setting, you can whip up cream in minutes and efficiently work. The power of this mixer is 300W which can easily knead and whip a large quantity of dough. The mixer is made of high-quality material and is BPA-free.
Pros
Mixer, beater and dough kneader for mixing, blending and whipping.
Stainless steel rotating bowl for mixing liquid food items.
5 stainless steel turbo speed settings.
2 year warranty
3-in-1 stand mixer.
Check this out – 5 Best kitchen sink brands in India
Closing Thoughts
For the bread lover who is looking for an easy way to knead the dough for making a variety of delicious baked goods, this Kent Atta and Bread Maker from KitchenAid can be perfect. This makes it so much easier than you could imagine.

If you are looking for quality dough kneaders, the Clearline Automatic Electric Dough Kneader is one of your best options. The dough kneader is a durable and high-performing machine that will not disappoint.